Fibre Networks and ISPs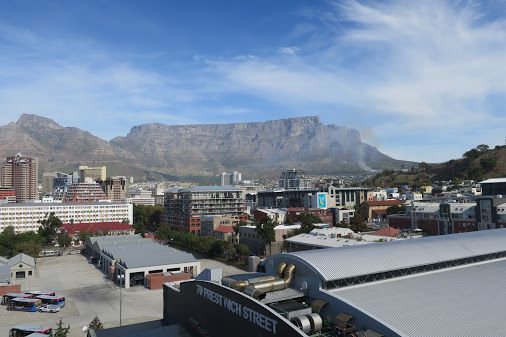 A new fibre provider, Octotel, is currently laying down fibre cabling in Sea Point and other areas around Cape Town CBD. There's also Cybersmart and Vumatel and Telkom and MTN, and the City of Cape Town, and lots of others. For the residents this means more cabling and more digging up the pavements, but it also means a new fibre network and a range of ISPs to choose from. For the benefit of our customers and the general public, we want to help clarify how it all works.
In Sea Point we have Telkom fibre, Cybersmart, DFA, MTN, City of Cape Town and recently Octotel. Joburg has Fibrehoods and Vumatel who are both making new land grabs in and around the City of Cape Town. And Durban has 123.net. These are all fibre network providers. They provide fibre infrastructure to various buildings and rent these connections to Internet Service Providers (ISPs), like MWeb, RSAweb, Webafrica, Cool Ideas and lots of others somewhat like Vanilla.
These developments are all driven by consumer demand for increasingly richer online entertainment. There is currently a large gap in the market for FTTH, Fibre to the Home, and for a while none of the big Telco's like Telkom or MTN seemed to be delivering more than the snail ADSL. So new companies like Vumatel and Fibrehoods stepped in and invested in creating their own local loop networks under the pavements, bypassing Telkom completely. This is sometimes called an Open Access Network, because it should give fair and equal access to all the ISPs who want to connect their customers to the fibre network. As mentioned above, the ISPs rent the line and deliver the final product and service to the public. The price they charge includes line rental, data and customer service. Customers appear to be attracted to the lowest prices and highest usage bundles, without knowing how their use is affected by speeds and service levels.
Based on this model, Vumatel and Fibrehoods Joburg have grown exponentially in the wealthy suburbs of Joburg, starting in Parkhurst and rapidly spreading out to meet demand. In response to this, Telkom launched a massive FTTH initiative with their "Bolt speed" campaign. This new market has been defined by such fierce competition, as was seen last year with some of the frantic bouts for entry into the country's key metropolitan suburbs.
"A few niche operators have taken advantage of this with players such as Vumatel being one of the biggest catalysts for fibre adoption in the consumer space. Off the back of some of its early successes, Vumatel has seen greater investment and continues to deliver on an aggressive rollout strategy," says Simon Butler, Vox Telecom's senior product manager.
It is interesting to see the different prices at which fibre providers rent their networks. Providing through Vumatel, ISPs consistently charge their customers a significantly higher price than with any other network. For example, both Cool Ideas and Webafrica charge R999 for a 100Mbps line on Fibrehoods and Octotel, but R1499 on Vumatel. This suggests that Vumatel rent their network at higher rate than the other fibre providers. This is possibly because they were the first to take a leap into the suburbs, and thus held a monopoly before being followed by Fibrehoods and Telkom.
Similarly, Octotel is targeting the elite areas of the Atlantic seaboard, providing them with an alternative to Telkom. Here fast Internet is no longer thought of as a luxury but rather a necessity. Beginning with Sea Point, they plan on advancing into Bantry Bay and Mouille Point. Octotel have to dig up the pavements (and the poor residents raise their hands in frustrations) to put in the fibre, but at least they're better than Telkom stringing up fibre lines on poles.
Companies like Telkom are both a fibre provider and an ISP. Telkom rents out its networks to other ISPs - Mweb, Vox and Webafrica are some. Yet, despite having to pay a rental fee to Telkom, both Vox and WebAfrica charge less for their product and service than Telkom does: for a fibre line and 200GB data bundle Telkom charges a customer R1599, whereas Vox and WebAfrica charge R1288 and R1248 respectively.
Thus, it is not just the ISP, but also the fibre provider that is relevant to the customer. And there is a fair amount of politics behind this relationship.
We are one of the ISPs providing through Octotel, which is how we found ourselves in a hall in Seapoint, at the "Octotel Community Information Meeting". Each ISP had their own little table, freebies and flyers with enticing offers, trying to attract their target customers.
The ISPs currently providing on Octotel's network are:
Webafrica
Rsaweb
Cool Ideas
PC Networks
Vanilla
Should there be a situation where only one fibre network is available in a building there is still the concern of monopolistic pricing even though such a company may be promoting their service using an "open access" model.
We must point out that there are fibre network providers that have common ownership to ISPs, like Telkom. Telkom was fined hundreds of millions in the competition tribunal in 2013. While various telecommunications companies are completely separate entities, there is still a form of cross subsidisation. We like to call it a little competitive advantage and we are mainly concerned about the end user experience.
As FTTH home spreads, we encourage customers to be thorough in their research of the best ISPs and networks available to them. More importantly we point out that much of the control of what choices you will have over the coming years is made by your body corporate.
*At the meeting, we also noticed that we are the only one offering 1000Mbps connections, but other ISPs are offering much lower prices for 'uncapped' 100Mbps - we investigated further and wrote up our

.